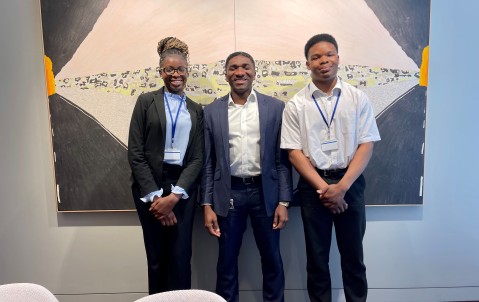 60 seconds with a Reinsurance IT Business Analyst
14th July 2023
At Hiscox Re & ILS we are passionate about creating opportunities for people from diverse backgrounds to join the reinsurance industry. In this interview we speak to a Senior Business Analyst about his career and his experience as a mentor for black students in London. 
How did you start your career in reinsurance? 
Like many people I landed in insurance by accident. I started my financial services career in banking, but later had a stint working at Aviva as a consultant for KPMG. That's where I first fell in love with insurance. Later while working for another consultancy, I had the opportunity to work on a project for Lloyd's. It was an eye opening experience for me, and it drove my passion for insurance.
I came to work at Hiscox Re & ILS two years ago. As an IT business analyst, I am passionate about technology. It is a very exciting time to be working in technology in Hiscox Re & ILS, in part, because we recently refreshed our technology strategy. 
What does an IT Business Analyst do?
My role as an IT Business Analyst is quite varied. I analyse and model the current processes, models and architecture of the business and their applications, to aid the design, development, implementation, and post-implementation support of technology solutions. 
No work week is ever the same for an IT BA as the role requires managing stakeholder relationships as well as technology implementations. I am currently embedded with the Finance and Data & MI value streams and we have a lot of interesting work in the pipeline to enhance the user experience and tech capabilities of Re & ILS. 
You are passionate about diversity in insurance and recently hosted a career week for two black students. What was your motivation?
I have been fortunate to mentor several young people in my local community. Sadly, I have observed that many young people in my community just do not have the opportunity to learn about the insurance industry. Perhaps they know about car insurance, but they are certainly not aware of the wider insurance ecosystem and the way it works. Many don't have exposure to the city, and if they do, they don't see a place for themselves there. I want that to change. 
I have always believed that information leads to opportunity. So, rather than moaning about the issue, I decided to do what was in my own power to create change – which is introducing the insurance industry to young people – one person at a time. In doing so, I hope to create opportunities for black children to learn more about the industry. 
I am very passionate about data and so I was very happy to introduce Hiscox Re & ILS to two students who are interested in considering future careers in data and technology. 
Can you describe the career experience week? 
The career week that I planned was for two exceptional A-level students, Noah and Gail. 
Their week started with a health and safety orientation. First things first, everyone needs to know where the fire exits are. Following that, the week focused on full immersion in Hiscox Re & ILS' daily workings. The students shadowed me in all my meetings and picked up basic concepts about how technology can help move businesses forward incrementally. In addition to that, the students also had special focussed sessions in which they were able to hear from our underwriters and catastrophe modelers about their careers. 
To round out the experience, the students also had one on one time with members of our accounting, operations, and data engineering teams. 
One highlight of the week was a trip to Lloyd's, during which they learned about the rich history of the insurance marketplace. 
Throughout the week, I was proud of the way my colleagues chipped in to help and show Gail and Noah where a career in insurance can take them if they study hard. We truly demonstrated our vision of being 'One Team, unlocking capital, embracing risk'. 
What kind of feedback did the students share?
The feedback from the students has been overwhelmingly positive. Both have said that the experience has inspired them to consider a career in (re)insurance. They were very thankful for feedback on their presentation skills. Their next step will be to seek an apprenticeship in the industry.
Interested in a career in reinsurance? Check out our careers website.