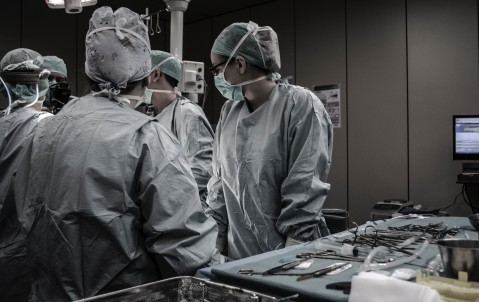 From the ER to K&R
1st April 2019
When a reinsurance broker approached Hiscox on behalf of a client looking to develop new offerings, Hiscox Re worked with Hiscox Special Risks to offer a bespoke K&R product. Nick Pascall – Head of Casualty Reinsurance, and Julio Garay-Roa – Head of Underwriting, Special Risks Europe explain more…
How did this opportunity come about?
Nick Pascall: Our reinsurance clients are always looking for new products they can sell to improve their overall offering to their insureds, build their brand and help sharpen their competitive advantage over other insurers.
A US medical malpractice writer we work with – offering insurance to hospitals, physicians, and surgeons – came to us through their reinsurance broker to explore what we had to offer on the insurance side that could be repackaged under their own branding and offered to their clients. After discussing several options, they felt that Hiscox Special Risks' K&R product would be of most interest to their insureds' needs.
Julio Garay-Roa: Having gained a good understanding of the type of product that would suit the insurer's clients, we worked intensively with teams across Hiscox Special Risks, Hiscox Re & ILS as well as our partners Control Risks to develop and tailor a K&R product that could easily be built into a hospital's annual policy.
What risks does it cover?
JG-R: The accessibility of hospitals means that they – and their medical staff – face a continual threat particularly from disgruntled patients or patients' relatives. Infant abduction is also high risk which is why the product we developed has specific coverage extensions for both the threat and the actual infant abduction. There is also, of course, the traditional K&R element for medical staff working both at home and covering them if they are abroad.
How does the product work?
NP: The K&R coverage is added as an endorsement to the insurer's existing policy form and branded as their own product. Cover is provided to each hospital on an opt-out basis as their policies come up for renewal. We crafted a rating matrix which allows the client to price the risks in a formulaic fashion but also allows them to flag individual risks that require higher limits or have special features so that Hiscox Special Risks underwriters can price them individually.
JG-R: A key selling point of the policy is the involvement of leading crisis consultancy Control Risks. Customers get access to our third-party crisis management partner via a 24/7 hot line in the event of an incident. The product will pick up the costs of Control Risks on an unlimited expenses basis as well as providing for other associated costs incurred in helping to resolve the situation.
Control Risks offers a range of services that it is difficult to get elsewhere, particularly in how they use market intelligence and technology to help clients better understand and manage their security risks. They also provide far more than crisis response support for K&R, offering additional help such as organisation resilience training and compliance audits.
What benefits are there for the insurer?
NP: The ability to offer an additional product like K&R is a real brand enhancer for the insurer. It's an easy process for them; they can offer the product – badged as their own – while we supply all the proprietary forms, rates, applications, and marketing materials. It differentiates them from other insurers without having to assume the additional risk and workload. Access to Control Risks is also a huge asset for the insurer.
NP: We take a customer-centric approach and look at ways we can help our insurer clients beyond simply offering reinsurance products. If we can cross-sell other Hiscox lines it is great for strengthening the client relationship – they get a better service from us – while it offers them a real opportunity to expand their product offering and build their brand.
JG-R: This K&R product could be relevant for any other US medical malpractice insurer or insurers operating in sectors where public access to their working locations can offer a security threat. We're also keen to develop other K&R/security products according to client needs.
NP: In addition to K&R, we have many other lines of business throughout the Hiscox Group that might be relevant to our clients including; other Special Risks products, private company directors and officers (D&O), and errors and omissions insurance (E&O). We will be looking to develop new product offerings wherever there is the demand.