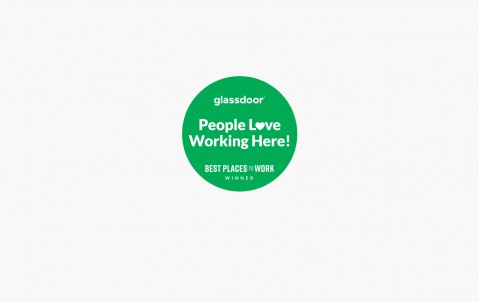 We've been named a 2018 Best Place to Work!
6th December 2017
According to our employees on Glassdoor We're proud to be named a winner of the annual Glassdoor Employees' Choice Awards, a list of the Best Places to Work in 2018.
Winners were chosen following an evaluation of all company reviews shared by employees on Glassdoor over the past year. We're over the moon and want to say a huge thank you to employees who left their thoughts and opinions on site about what it's like to work here. So what is it like to work at Hiscox?
Here are just a few of the quotes that employees shared on Glassdoor that contributed towards the award: "Hiscox treat their staff like adults.... I feel rewarded and listened to which are the 2 key things for me, people genuinely want to work here and enjoy their jobs, that filters through everything Hiscox do." - Current Employee
Senior Development Underwriter "Hiscox has such a huge team feel to it, everyone works as part of a team through both the highs and the lows and you are always supported." - Current Employee (new joiner), Anonymous "True to its values… Hiscox stands by its values and treats their employees as their most valued asset." - Current Employee, Underwriter
"Given responsibility from the first day, excellent training, exceptionally friendly and approachable working environment, good benefits. Flat team structure, driven and motivating colleagues. Very proud to work for them. Amazing grad scheme with secondments abroad." – Current Employee, Graduate Underwriter
"A dynamic yet established company that embraces new technology, yet treat their employees in an old-fashioned caring manner." – Current Employee, IT Technical Support
"I have never worked for a company before that values its customers as much as Hiscox. Great benefits, great environment and a pleasure to come to work every day." – Current Employee, Anonymous
"Everyone is incredibly nice and, easy to approach. The training schedule is varied and engaging …The building is very impressive, it has a very modern feel whilst remaining comfortable. The food in the café is also first rate." – Current Employee, Insurance Expert