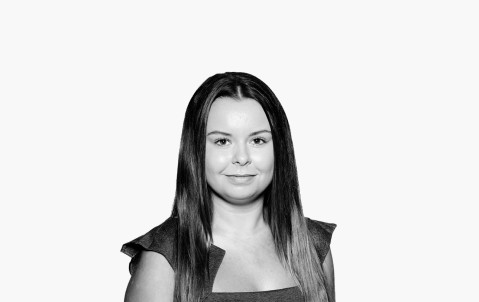 Talent focus: Aoife McLaughlin, Operations Manager
16th December 2021
Aoife McLaughlin, Operations Manager at Hiscox Re & ILS shares how the Operations team support the business during busy renewal seasons, what excites her most about a career at Hiscox and her passion for introducing the world of (re)insurance to school leavers.
What drew you to the (re)insurance industry and to Hiscox?
During my A-levels I wasn't sure whether I wanted to go to university or into the world of work, however I was lucky enough to spend a summer at Canary Wharf Contractors which made me realise I wanted to be in the City in a job where I could gain professional qualifications. I often walked past the Lloyd's building on my lunch breaks thinking it looked a pretty cool place, but didn't know anything about the (re)insurance industry – like many people I fell into it! I joined Hiscox in 2012 and after nine years here I haven't looked back and I still feel like I'm always learning! Since the day I joined Hiscox, it's the people that I have loved the most.
How would you explain your role as an Operations Manager to your friends or family?
An Operations Manager at Hiscox Re & ILS is a broad and exciting role where every day is different!  As a functional role, you have oversight of all parts of the business and build great relationships with team members across the Group. An essential part of the job is to support system changes as well as to understand the uses of data whilst ensuring we have robust processes in place to deliver highly accurate data to the underwriting teams. Part of the role is also ensuring compliance with our underwriting controls, such as checking risks underwritten are within underwriters' authority. It's an exciting time to be in Operations with the opportunities that technology continues to bring; just over the past few years we have seen several developments in the way brokers are placing business and we're currently looking at ways to use new technology to speed up processes where manual input is currently required.
We're currently in the lead up to 1/1 renewals, how does the Operations team support the business during this busy period?
Renewal periods are always a busy time for operations but especially 1/1 as this is when a large proportion of reinsurance programmes are written. During renewals, we are the support function for underwriting and modelling teams, helping them to process the policies. Simply put, our aim is to make sure the renewals process is as smooth as possible for the whole business. We do this by ensuring all modelling data is available to use in order to price the business coming through the door, as well as making sure all premium and exposure data is in the underwriting system accurately to ensure reliable reporting.
What are three traits you need to be successful in your role?
Flexible – you need to be prepared to be pulled in several directions and get involved in lots of different projects.
Organised – having a busy schedule is commonplace so being able to effectively prioritise work and meet deadlines in a timely manner is invaluable.
People person – in operations you get to work with people from all different roles and seniority levels across the business so being able to flex your style to different personality types is essential.
How did the lockdowns impact your team during 2020 and 2021?
The majority of our team are based in either London or Bermuda, however we work closely together on a daily basis. The lockdowns actually helped considerably improve communication as it encouraged us to have more regular check-ins during these difficult periods. I think the lockdowns helped bring the two teams together in a very strange time for all, although I'm personally loving being back in the office interacting with the wider Hiscox Re & ILS team especially during the buzz of renewals!
What excites you most about your career at Hiscox?
I'm excited about the great future Hiscox has ahead of itself and to be a part of the journey surrounded by an incredible team. Having been at Hiscox for nine years, it's been fascinating to see how much the business has grown over this time and I'm sure it will be no different over the course of the next nine years! The new IT and technology advancements at Hiscox excite me and my role allows you to play a big part in the development and testing of changes, seeing them through to delivery with the team. I'm also excited by the work Hiscox are doing with regards to diversity, equity and inclusion. It's an extremely important topic for everyone and we are starting to see positive changes come off the back of it. When I joined Hiscox, there weren't many school leavers that I knew in the market, however we're now seeing a lot more syndicates promoting insurance careers and employing school leavers which is great. Also last but no means least, after ten years of service at Hiscox you get to take a sabbatical so I'm really excited about that!
If you had chosen a different profession, what would it have been?
If money was no object, my dream job would be to travel the world as a scuba diving instructor -  I love seeing new places and try to cross a country or two off my list each year. However I have always liked the idea of being a detective and feel I already have some of the skills as part of Operations involves investigating why something has happened and putting safety nets in place to prevent any issues going forward!
What advice would you give a school leaver joining Hiscox?
Everyone you work with at Hiscox has a wealth of knowledge and experience. Grab the opportunity and learn as much as you can from the great team around you. The ACII exams are a great way to earn a professional qualification whilst you work and helps you fully understand the (re)insurance sector which I would encourage. Be inquisitive, ask why and don't be afraid to share your opinions as having a fresh perspective is valuable! I'm passionate about getting new school leavers into the industry and Hiscox, so please reach out to me on LinkedIn if you want to find out more about the world of reinsurance!