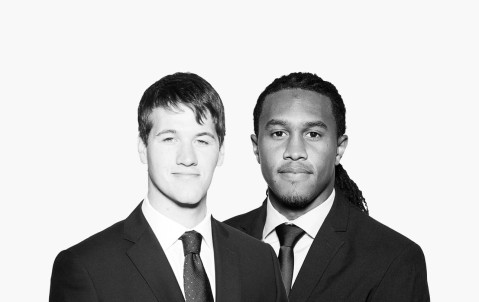 What I learnt as a Hiscox graduate
1st February 2022
Hiscox Re & ILS's Mauriq Hill, Financial Accountant and Nick Pell, Underwriter have recently completed the Hiscox graduate scheme. They share their experiences, favourite moments and top tips on how to make the most of the programme.
From intern to graduate
Mauriq: Before I joined Hiscox, I studied Finance and Accounting at Clemson University and then went on to pursue a Master's in Business Administration at the University of Pittsburgh's Katz School of Business. In the summer of 2018, I got my first taste of reinsurance during an internship at Hannover Life which stemmed my interest in the industry.
Nick: Prior to joining Hiscox I was studying for my Master's degree in Physics at Loughborough. It was after my second year away that I got the opportunity to join the Catastrophe Modelling team at Hiscox as a summer intern. I think it's fair to say that those first three months I spent with the company changed the course of my life and I decided to come back the next year…even if my team were sick of me!
Opportunities to learn
Mauriq: After completing my studies I was excited at the opportunity to join Hiscox's graduate scheme. Over the course of the two years I was exposed to a variety of different functional units - Financial Reporting and Control, Business Performance, Investor Relations and International Property – which allowed me to gain a strong overall understanding of how the business operates. I found Investor Relations particularly interesting, as I was able to see the interconnection between the different business segments within Hiscox Group.
Nick: During my internship, the advice I was given was that the graduate scheme would be a fantastic launchpad for an underwriting career – advice I'm glad I followed. In 2019 I joined Hiscox's graduate scheme, which began with re-joining the Cat Modelling team before moving onto my first foray into underwriting, as part of my North American rotation. I then moved into the International Property team, where I took on more significant projects, ranging from building an agriculture model to creating underwriting MI (management information). It was these projects that led me to being seconded into the Claims team, with the goal of streamlining and automating some of their work processes.
Trust
Mauriq: The most valuable aspect of the programme is the expansive knowledge I've gained over the past two years, mainly driven by fantastic colleagues who go the extra mile to help you develop and excel.
Nick: The value in the graduate scheme is the trust people place in you. At every stage, I was handed tasks that were of tangible value to the company and there was complete trust that I could grow and meet the challenges in front of me. It's this trust Hiscox gives to you that has allowed me to build such a broad skillset and develop also on a personal level.
My favourite moment
Mauriq: There have been so many great moments on the graduate scheme, but my highlight was definitely being given the opportunity to present at the Finance All Team meeting. Being able to communicate the importance of investor relations and deliver a presentation to such a knowledgeable group of people was a personal career development goal of mine. It also allowed me to market myself and build my exposure across the business!
The power of camaraderie
Nick: The camaraderie you build with your fellow grads over the course of the two years is unique. Being part of a larger cohort of graduates, all starting a new career and sharing the same new experiences, provides you with a robust support system around you from day one!
Graduating from the graduate scheme
Mauriq: Overall my two years were challenging yet extremely rewarding! I officially completed the scheme in December 2021 and am very happy to have started my full-time position back with the Finance team as a Financial Accountant! Hiscox Re & ILS have a unique business model that combines traditional reinsurance (Inwards) and third-party capital strategies (Outwards), which is important to understand in finance – there are a lot of moving parts. My goal is to continue my development and gain more meaningful exposure in both Inwards and Outwards reporting, while working on various internal and external processes that are vital to our business segment.
Nick: Since leaving the graduate scheme in December, I joined the International Property team as a fully-fledged Underwriter, where I get to underwrite deals in not only worldwide property reinsurance but also in retrocession and agriculture too. One of the things I love about Hiscox is that you may have a 'home' team, but you're always welcome to work across teams. For example, I'm currently getting to put my more technical skills to work on some projects with the Specialty team.
Curiosity is key
Mauriq: I have three top tips for someone starting their career on the Hiscox graduate scheme:
1. Try to be a sponge. Absorb as much information as you can and be curious.
2. Don't be afraid to embrace challenge and step out of your comfort zone.
3. Have fun and be yourself!
Nick: Be curious! Don't be afraid to pester everyone around you with questions, it's a great way to learn and to get advice. Not every piece of advice will be right for you, but the more you ask, the more likely you are to find something that resonates.