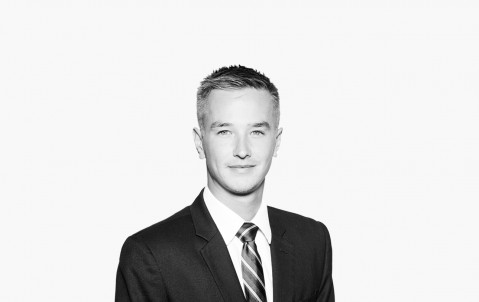 My first year as a graduate underwriter
30th June 2020
Bryce Wojciechowski joined Hiscox Re & ILS as an underwriting graduate in summer 2019.  Now almost a year into his role, we asked Bryce to tell us what he enjoys about being a graduate underwriter, share his favourite Hiscox value, and explain what's surprised him the most about reinsurance.
Tell us about your role as a graduate underwriter
When I first joined the team, my role and responsibilities were very fluid. This was the perfect introduction as a graduate, as it gave me a broad understanding of the many facets of being an underwriter. Currently, I sit within the International underwriting team within Hiscox Re & ILS, who look after a global book of risks ranging from Japanese typhoons to Indian crop.
Over the 1/1 and 1/4 renewal periods, I worked alongside the Modelling and Analytics team, which really opened my eyes to the power of analytics. Now almost a year into my role, I am taking on more underwriting responsibilities, such as assisting with risk assessment and evaluation. I have also been lucky enough to attend some client and broker meetings, which has been hugely valuable in building my understanding for the business and the international market.  
What do you enjoy most about your role?
What I enjoy the most about my role is the ability to learn in such an engaging and connected environment. I feel very fortunate that I get to work alongside such experienced colleagues who are so willing to share their knowledge with the next generation of underwriters.
As an underwriting graduate, you have the ability to make a valuable contribution from day one. The work is extremely meaningful (contrary to populate belief, insurance is a real force for good!) and the framework and support of the programme enables you to not only fulfill your responsibilities, but even excel!
Hiscox expects a lot from its graduates, but for a person like myself who loves a challenge and the opportunity to learn, this is the perfect environment to build a strong foundation for my future career with the company.   
What's your favorite Hiscox value and why?
My favourite Hiscox value has to be 'Courage'. I believe that courage is imperative when challenging the status quo, doing the right thing no matter how hard it might be, and knowing when to stop, listen, and start again.  I often refer to the following quotation: "Courage is what it takes to stand up and speak; courage is also what it takes to sit down and listen." I believe this is where the path to progress and success begins.
What's one thing that's surprised you about reinsurance?
Before I joined the world of reinsurance, I wasn't aware of the breadth of expertise in the industry. Obviously, we are in the business of risk, so understanding the cause and scale of risk is of utmost importance. Yet, one thing that pleasantly surprised me is the huge role scientific insight and technical analysis plays in developing our view of risk, as well as the factors that go in to deciding how we approach it.
I have thoroughly enjoyed being a part of these fascinating discussions, as well as learning from our research teams about the ever-changing landscape of global risk. With the exacerbated effects of climate change and its impact on changing worldwide weather patterns, as well as the far-reaching implications of COVID-19, I think I have joined the industry at a really pivotal time. 
What advice would you give someone joining a graduate programme?
The biggest piece of advice that I would give someone joining a graduate programme is to maintain a level of curiosity at all times. As a graduate, you have the unique advantage of getting exposure to lots of different areas of the business. No matter what team you end up working for in the long run, the information gained will be applicable in one way or another.
Hiscox fosters an environment where people are happy to teach and share their unique expertise. The more knowledge and understanding you have, the more of an asset you will be to your team.