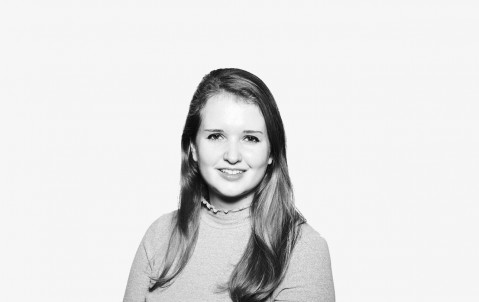 Why reinsurance is my happy accident
25th June 2018
As a geophysics graduate, Emma Watson never considered reinsurance her 'dream industry'. One year into her role as a Catastophe Modelling Analyst at Hiscox Re & ILS, she's grabbing every opportunity available. We spoke to Emma about what she loves about her job, her aspirations for the future, and what piece of advice she'd give a new employee.
Why did you choose to go into the reinsurance industry?
In all honesty, I didn't really choose reinsurance – I just accidentally ended up here! I studied geophysics at university and the prospect of having a job with 'catastrophe' in the title seemed exciting! I hadn't even heard of reinsurance before I started working and my initial learning curve was huge – but it all paid off and I'm glad I've ended up in a really interesting industry.
Do you think the reinsurance industry offers good opportunities and career development?
Yes, definitely! Even within my own team, there are so many examples of the different paths you can take. There is also a lot of flexibility to jump between different roles. My colleagues are also willing to spend time explaining what they do so I can get fuller understanding of what all the roles actually are.
What are your personal aspirations for the future?
Being so early in my career, I am really happy with the position I'm in. The people I work with are amazing and there are lots of opportunities to take on new things. For the moment, I'm super excited about continuing with the Cat team and grabbing any opportunities that come my way!
Do you think the industry is attractive to young professionals?
I think the industry is definitely attractive. It's the 'glamour' of the city but without the high intensity that comes with other parts of the financial sector. There is lots of opportunity to do a range of different roles within reinsurance. But I think the industry is still struggling to portray to graduates just how good of a career option it is.
What do you like most about your job?
I enjoy the variety of my work. During renewal seasons, I spend most of my time  running the cat models for quoting and checking data for our rollup. This is where we combine everything the underwriters wrote in a renewal season so we can see how much risk we have taken on. Outside renewals, there a whole host of projects going on. At the moment I'm involved in helping to review our Hiscox View of Risk  post Harvey, Irma & Maria (HIM)  by seeing how well the models performed relative to claims data. I'm also involved with our research team in developing our understanding of flood models and driving forward one of our newest and most exciting products, FloodXtra.
What attracted you to Hiscox and what keeps you here?
Before I joined the team, I found the Hiscox values really appealing – they definitely caught my eye. Now that I'm here, it's absolutely the people who make every day of work great. Everyone is super motivated about what they do and there's a lot of intelligent people in the team. It's great to work with people that really know what they're talking about.
If you had chosen a different profession/career path, what would it have been?
If you were to ask me this when I was 10, then answer would definitely have been popstar! When applying for roles towards the end of university I had never been 100% sure what I wanted to do so I think any industry I ended up in would kind of been an 'accident'. But my career in reinsurance has definitely been a happy accident.
What piece of advice would you give to a new employee?
Take time to listen. The wealth of knowledge that people in Hiscox have is amazing and there's so much you can pick up from them.